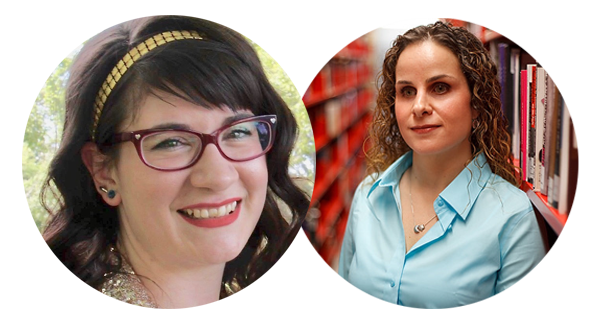 Leah Brochu is the Accessible Publishing Coordinator for the National Network for Equitable Library Service, where she helps to improve the state of equitable reading in Canada. From organizing the Accessible Publishing Summit, to coordinating logistics for a variety of projects, to website maintenance and social media, Leah is passionate about using her skills and experience to work towards a more accessible and inclusive future.
Daniella Levy-Pinto is an expert in accessibility, including digital technology as well as livable spaces. She has been a user of assistive technologies for more than 25 years in her different roles in academic and professional settings. As the Coordinator for Accessibility Testing with the National Network for Equitable Library Service (NNELS), Daniella leads a team of testers who assess the accessibility of EPUB files and reading apps to access content through public libraries across Canada, and provides advice to prevent or eliminate accessibility barriers.
Over the past few years, the National Network of Equitable Library Service (NNELS) has had the absolute pleasure of working with over 100 publishers across Canada. We have audited their EPUB files, provided workshops on accessibility, worked with them to make new releases available in physical and electronic braille, and in the case of the subject at hand, recently finished working with 17 publishers in the Experimentation Project for Accessible Publishing: Publisher Workflows and Ebook Accessibility (which we referred to as the Publisher Workflows Project, or PWP, because we never had enough time to say the full title). This project has been made possible by the Government of Canada. It was a joint project of eBOUND, l'Association nationale des éditeurs de livres (ANEL), and NNELS.
Introduction
When inclusion is a consideration from the start, accessibility can become an organic part of a workflow. It can mean increased efficiency and a superior product, while at the same time it can minimize remediation costs if accessibility barriers remain.
Publishers around the world are becoming increasingly aware that their digital content needs to be accessible, and in order to accomplish this, they need to make sure that accessibility is embedded in their workflow. For many publishers, especially those just beginning to learn about accessibility (and — gasp — still producing EPUB 2!), this is far easier said than done. And this is where we're delighted to come in — building, of course, on the work of numerous other individuals and organizations that are also paving the way to accessible and inclusive publishing.
Publisher Workflows Project overview
The goals of this project were to:
learn about publishers' workflows;

assist publishers in the creation of accessible books and accessible workflows; and

develop best practices around introducing accessible workflows into the publishing cycle to produce content that is born accessible.
These goals were accomplished by administering questionnaires; having discussions with publishers, designers, creative directors, and ebook producers (both independent/freelance individuals as well as larger conversion houses); and having the NNELS team of accessibility testers review and provide feedback on publishers' EPUB files. NNELS' team of accessibility testers is formed by individuals with lived experience of disability, who consume print content in non-traditional ways. The accessibility testers have expertise in assessing the accessibility and usability of ebook (EPUB) files and reading systems, identifying accessibility barriers, and making recommendations for improvement. The combination of their expertise and experience make them uniquely qualified to evaluate publisher files and provide feedback.
The participating publishers included publishers of children's books, poetry, fiction and non-fiction with varying levels of complexity, and university presses. Some were quite experienced with accessibility and had been incorporating accessibility features into their ebooks and workflows for years, while others were brand new to the concept.
A key component of this project was, without a doubt, the "accessibility reports" that we provided to publishers. While some publishers were familiar with resources like:
they nevertheless found the individualized feedback from the NNELS team to be incredibly useful!
Hands-on instruction and individualized feedback allowed publishers to truly contextualize the concepts of accessible publishing within their own work. The participating publishers found that having feedback from the NNELS accessibility testers was invaluable.
What publishers need
Over the course of the project, we spent dozens of hours communicating with people working in publishing and ebook producers. Over time, themes emerged as to what publishers need in order to best support their journey into producing born-accessible books. These include:
The ability to be able to ask questions and seek advice on their specific issues.

Plain language documents and guides, including the following, which we developed over the course of this project:
What publishers can do
The following lists offer suggestions of different things that publishers can begin anytime, and things they can work towards in the future. These steps can be thought of as a process, a continuum towards full accessibility. Some steps will be easy to implement with only a little bit of practice, while others, like adding page numbers (to correspond to the print edition) may require learning of additional tools and programs, depending on the particular workflow.
Right now
We found that there are many small things that publishers and others in the workflow can do in order to start incorporating accessibility into their production process right away:
Build image descriptions into your workflow to ensure they will not be forgotten along the way. Talk to your authors and editors, they're closest to the content and know the information that the image is meant to convey; image descriptions can be copy-edited as part of the regular editorial work.

Consider revising your style guides for authors/editors, to ensure that different elements such as headings will be retained when producing the ebook.

Specify the dominant language(s) of the book in its metadata, and set the primary language of each chapter.

Check for accessibility by incorporating an EPUB accessibility checker to your workflow, or by hiring accessibility testers to assess the usability of your ebooks.

Add accessibility metadata to your EPUBs. Accessibility metadata, found in the package document of an EPUB, tells potential buyers and readers what accessibility features your book offers. These features range from basic text access to full semantic markup and described images, which facilitates informed decisions about the usability of an ebook.

EPUB version 3 offers much richer navigation, media integration, and accessibility features than EPUB 2 — there's no reason to create new ebooks in an outdated version.
What publishers can work toward
We also recognize that there are a number of ways that publishers and others can work toward a born-accessible workflow which cannot be immediately implemented, but would be incredibly powerful. We recommend that people begin learning about the following practices:
XML-first workflow. Consider adjusting your production process to build files which could easily be adapted for both print and digital. An XML file offers a flexible, sophisticated format which can be the source for a number of outputs.

Add structure as early as possible in the production process, to make it easier to preserve that structure along the production process.

Include page numbers when there is a print equivalent of the ebook, to ensure that all readers have access to this information.

For scientific content, be sure to incorporate MathML, to provide access to mathematical and other scientific content to people with disabilities.

For image-heavy publications, such as children's books, consider producing enhanced EPUBs by embedding video or audio. It's possible to make multimedia fully accessible, by providing an alternate version of each type of media (e.g., an audio track to read the content, videos with additional descriptions for people with sight loss, along with captions or a text transcript for people with hearing loss).
Conclusion
Working closely with publishers on accessibility has been an interesting and rewarding experience. We've seen that, across the board — whether the company is large or small, whether they're just beginning to think about accessibility, or have been making it a priority for years — publishers in Canada are excited about accessibility, and eager to learn. It has been wonderful to witness publishers realize that by enhancing the accessibility of their books, they're improving the digital reading experience for all readers, not only those with print disabilities. By taking steps to build accessibility into their workflow, and accessibility features into their digital content, they're creating a better product, and building an inclusive publishing landscape!
We recognize that there's a lot of information out there on accessible publishing. There's complex code to learn, intricate steps to take, new programs and software to learn, and, to many busy publishers, this is simply overwhelming. But, we have good news: you do not have to know everything before getting started! And, you can go step by step, working to incorporate more accessibility features into publications over time, not all at once. Taking even one step, like adding image descriptions, formatting your table of contents as a linked list, or ensuring that tables are not presented as images, will make for a more accessible book, and every little bit counts!
The steps to building an accessible workflow
Awareness: Start talking about accessibility with your team. It's important for everyone involved in the book production cycle to understand what accessibility for readers with print disabilities means. Striving towards born-accessible ebooks is a journey, which is much easier when done as a collective effort.

Starting small: You don't need to try to incorporate every accessibility feature at once; start where you feel comfortable and keep building with each publication.

Ask for assistance: Reach out to experts working on accessible publishing. Accessibility experts can support publishers by helping to solve problems that publishers may encounter in implementing changes to their workflows, answering questions and providing advice on accessibility standards, and testing accessibility features. Awareness of different reading styles and familiarity with users who access content in non-traditional ways will go a long way towards helping publishers strive to create ebooks that are accessible for everyone.